WIN! A pair of Under Armour 'HOVR Infinite' Running shoes
More shoes. More HOVR. More digital connectivity.
Closing date: Thursday, 14 February 2019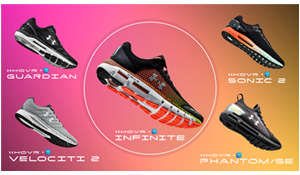 More shoes. More HOVR. More digital connectivity.

Recognizing that every runner is different with a unique set of needs, Under Armour is launching a full suite of high performance running shoes built on the UA HOVR™ cushioning platform. In addition to creating a footwear solution for every kind of run, Under Armour is committed to giving athletes the tools they need to push themselves beyond what they think is possible. That is why every single one of these high performance running shoes is digitally connected, allowing the runner to seamlessly connect their shoe to the MapMyRun™ app, unlocking access to the runner's performance data and personalized coaching.

Having the proper footwear is paramount for all runners – whether someone is a professional runner competing at the highest level, or a new runner buying their first pair of run shoes to train for their first 10K. Taking care of the body is a necessity, and Under Armour's new suite of UA HOVR run shoes are designed with that in mind.
For FREE access to this and other services, you must be a registered member of Ahlan!live
Sign In
Please sign in to your Ahlan!live account
or