WIN! A pair of Under Armour 'HOVR Infinite' Running shoes
More shoes. More HOVR. More digital connectivity.
Closing date: Thursday, 28 February 2019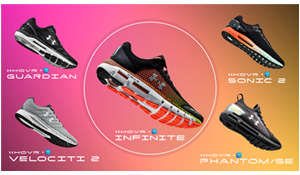 More shoes. More HOVR. More digital connectivity.

Recognizing that every runner is different with a unique set of needs, Under Armour is launching a full suite of high performance running shoes built on the UA HOVR™ cushioning platform. In addition to creating a footwear solution for every kind of run, Under Armour is committed to giving athletes the tools they need to push themselves beyond what they think is possible. That is why every single one of these high performance running shoes is digitally connected, allowing the runner to seamlessly connect their shoe to the MapMyRun™ app, unlocking access to the runner's performance data and personalized coaching.

Having the proper footwear is paramount for all runners – whether someone is a professional runner competing at the highest level, or a new runner buying their first pair of run shoes to train for their first 10K. Taking care of the body is a necessity, and Under Armour's new suite of UA HOVR run shoes are designed with that in mind.
This competition has ended and no more entries are being accepted.
The winners for this competition are listed below:
Kim Ann Ortiz, united arab emirates
If you are a winner and we have not contacted you yet, please be patient and a member of the team will be in touch shortly. Due to the large number of competitions we run, there may be a short delay before your details can be processed, but you will receive an email with instructions on how to claim your prize in due course.
If you have any queries, please feel free to contact us at Read our Privacy policy & Terms of use