WIN! A gym membership worth Dhs9,000!
The Gym in Dubai is unlike anything you've seen before
Closing date: Friday, 15 December 2017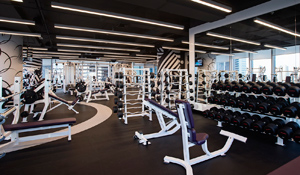 The Gym is the ultimate fitness destination in Dubai. It is a blend of beautiful interiors, a place that makes you feel welcome and most importantly, a real gym. This is the place to go if you're looking to transform yourself into the best possible you. And the good news is we're giving away a one year membership to one lucky winner worth a whopping Dhs9,000.
As soon as the lift doors open you are transported into a world of luxe glamour. "Our concept was all about creating a combined space where trendy, stylish boutique meets hard-core workouts with a bit of lounging about in between" says Brian Leib, the interior designer (who was especially flown in from South Africa). The Gym has an unrivalled selection of the best strength and cardio equipment that the industry has to offer. Each of the 65 machines were custom-made for The Gym and they are strategically grouped around the 10,000 square foot space, depending on what areas of the body they work-out. Get the body you've always dreamed of with The Gym's large selection of cardio machines that have built in interactive video entertainment, adding a bit of fun and making those minutes fly by! Also on offer are hammer strength machines, which are plate loaded meaning they provide a natural movement making them the best for resistance training.
Once you've finished working out head to the incredible yin and yang female and male bathrooms. Think big fluffy towels, warm massaging rain showers and lots of space for you to get ready for your morning meeting or even dinner post-gym.
INFO: Level 1, Vision Tower, Business Bay, 04 442 6586, thegymdubai.com

To enter, log in and answer our multiple choice question.
For FREE access to this and other services, you must be a registered member of Ahlan!live
Sign In
Please sign in to your Ahlan!live account
or